Spartanburg Events Calendar
Find Spartanburg events and things to do, including concerts, art walks, sporting events and nightlife entertainment. Be sure to also check out our outdoors guide for the Upstate and a listing of museums and galleries.
Thursday, January 20, 2022
Biltmore: Legends of Art & Innovation
November 2021 – November 2022
Immerse yourself in our new exhibition series, Legends of Art & Innovation at Biltmore—featuring three different large-scale, multi-sensory experiences—created and produced by Grande Experiences using the very latest in immersive technology to illuminate the remarkable lives of Van Gogh, Monet, and Da Vinci and their timeless masterpieces of art and design.
Each individual component of this year-long series offers fascinating ties to George Vanderbilt's collection of treasures for his magnificent home on the grounds of Biltmore.
Check Out Upstate Resources: TATT youtube
With the new year comes a new feature for Interior Designers, Decorators, and home enthusiasts, Color My World. We will be tracking the Colors of the Year and Colors of the Seasons. These colors influence everything from fashion to housewares. Throughout the year we will run stories about how these colors are chosen and who chooses them. Best of all though, we will be featuring artwork from our artists that utilize or coordinate with the season's colors. We'll even be choosing some colors of our own!
Flat Rock Playhouse's 2022 Season
This year will feature an exhilarating blend of beloved productions, including Million Dollar Quartet, West Side Story, and Mamma Mia! The popular Music on the Rock® series, Studio 52 Family Programming, and a brand new Black Box series round out the 2022 season and mark a renewed beginning for FRP after a long pandemic shutdown.
Season subscriptions are on sale now. Music on the Rock® single tickets go on sale on January 24, 2022, and single tickets for all remaining shows go on sale on February 14, 2022.
The Music of Tom Petty
Feb. 24-March 5
Two Jews, Talking
A Hilarious Staged Reading
March 17-19
A side-splitting piece written by Ed. Weinberger, our characters take us on a rollicking romp through time! The two-act story brings Lou and Bud together in the Biblical past, and Phil and Marty together in contemporary Long Island. They philosophize about women, sex, food, the divine, and destiny in this tale of companionship and friendship.
The Music of Elton John
March 31-April 2
The Music of Neil Diamond
April 7-10
Catch Me If You Can
April 28-May 14
This comedy thriller is a classic gem with exciting twists and turns from beginning to end. "The final 15 minutes will reward you like a murder mystery should." The New York Times
Million Dollar Quartet
May 20-June 19
Back by popular demand, the musical celebrates the historic Sam Phillips studio recording sessions of Johnny Cash, Jerry Lee Lewis, Carl Perkins, and Elvis Presley.
The Music of the Eagles
An Outdoor Stadium Concert
June 18
Join Flat Rock Playhouse for another rockin' evening of outdoor summer fun at West Henderson's Athletic Stadium, Johnson Field.
West Side Story
July 1-30
The Romeo and Juliet inspired love story of Tony and Maria amid the Jets and Sharks gang rivalry. Ranked #1 in the most recent survey of theatre patrons.
Mozart to Pop Chart
The Musical Story Continues
August 5-13
Nat Zegree (Jerry Lee Lewis/Amadeus) is back to whisk you away on an all-new musical journey through the history and triumphs of music from Mozart to today's current hits. Featuring many of the local region's best rock and symphonic musicians!
Guess Who's Coming to Dinner
August 19-Sept. 4
Don't miss this fresh and relevant stage adaptation of the iconic film that starred the inimitable and great Sidney Poitier.
---
Introducing The Black Box Series.
September 15-October 9
 You've never experienced a play on The Rock like before. The audience and artists share the MainStage for an intimate and immersive theatre experience.  The Black Box Series will feature contemporary works, classics, and stories and playwrights from around the globe. Be among the first to join us on this new and exciting theatrical journey!
God of Carnage
Sept. 15-Oct. 8
A triple-Tony Award-winning Broadway sensation the New Yorker called "laugh-out-loud hilarity," and "ninety minutes of sustained mayhem."
Blood Knot
Sept. 16-Oct. 9
A play that asks us to dig beneath the surface of what makes us kin and what happens when we don't like what we find there. By renowned South African playwright Athol Fugard.
---
Mamma Mia!
Encore Performance
Oct. 21-Nov. 13
The hugely popular mega-Broadway hit featuring the music of ABBA is back for an encore performance. Featuring songs like "Dancing Queen," "Gimme! Gimme! Gimme!," "Honey Honey" and so many more.
A Flat Rock Playhouse Christmas
November 25-December 22
The WNC tradition continues. Same great show, all new material. A Playhouse favorite that will leave you feeling merry and bright!
A Charlie Brown Christmas (Studio 52)
December 1-4
Everyone's favorite holiday classic comes to life in a spectacular new production of A Charlie Brown Christmas. Adapted from Charles M. Schulz's timeless story the whole family can enjoy. Join Charlie Brown, Snoopy, Lucy, Linus, and the whole Peanuts gang as they sing, dance, and learn the true meaning of Christmas!
To learn more about the 2022 lineup and how to purchase your tickets, please visit the website at www.flatrockplayhouse.org.
FLAT ROCK PLAYHOUSE
In 1937, a group of struggling performers, led by Robroy Farquhar, organized themselves as the Vagabond Players. The Vagabonds worked in a variety of places over the course of three years, and in 1940 found themselves in the Blue Ridge region of Western North Carolina. The local and tourist community welcomed them with open arms when they presented their first summer season of plays in a 150-year-old grist mill they converted into The Old Mill Playhouse at Highland Lake. So successful was that summer, they returned in 1941. After WWII, the Vagabond Players reorganized came back to the region and opened a playhouse in nearby Lake Summit. The Lake Summit Playhouse thrived during the post-war years and soon the Vagabond Players were looking for a larger and permanent home. In 1952, the troupe of performers, and a newly formed board of directors made an offer to buy an 8-acre lot in the Village of Flat Rock. This new home made the Vagabonds "locals" and a rented big top gave birth to Flat Rock Playhouse. As the beautiful Western Carolina region continued to grow, so did the Playhouse and in 1961, by Act of the North Carolina General Assembly, Flat Rock Playhouse was officially designated The State Theatre of North Carolina. What began as a few weeks of summer performances in 1940 is now a nine-month season of plays including Broadway musicals, comedy, drama, and theatre for young audiences. The Playhouse's dual mission of producing the performing arts and providing education in the performing arts includes a professional series; a summer and fall college apprentice and intern program; and Studio 52, year-round classes and workshops in theatre and film for students from kindergarten through adults. Flat Rock Playhouse now hosts over 98,000 patrons annually and is a significant contributor to the local economy and the Arts in North Carolina.
# # #
Learn-Speak-Connect with Foreign Language Classes at Upstate International
Registration is OPEN for our winter Foreign Language Classes.
Learn~Speak~Connect with classes at Upstate International. DON'T DELAY: Classes fill up quickly!
Classes begin the week of January 3rd and will be completed by February 25th, then followed by our spring semester. Upstate International offers both once/week regular and twice/week intensive classes, online and in-house. English, French, German, Italian, Japanese, Russian and Spanish. Check the schedule for details. Click here: http://events.r20.constantcontact.com/register/event?oeidk=a07eiwswdx0d921b8c1&llr=4w9vvofab&showPage=true.
Online Exhibitions with Artists Collective | Spartanburg
This weekend, The MADDDARTIST exhibit will be available for viewing online.
Restaurant Week in Spartanburg: Jan. 13-23
January means a new year but it also means Restaurant Week is back in South Carolina and in Spartanburg. A host of Spartanburg favorites will have special meal deals, available for dine-in and take-out, from January 13-23. Restaurant Week is great excuse to try something new or revisit and old favorite, and most importantly to support the restaurant community of Spartanburg as our entire county continues its momentous recovery from the damage of COVID-19.
Student Poetry Contest – "Ambition"
January through April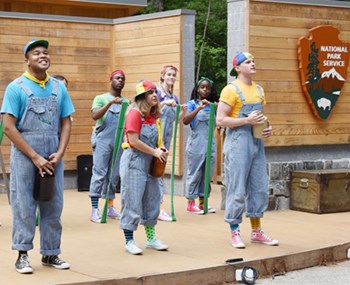 Actors portray characters from Carl Sandburg's Rootabaga Story "Three Boys with Jugs of Molasses and Secret Ambitions."
NPS Photo
Educators in grades 3-12 are invited to submit original poems written by their students in February. The poems will be judged and winners announced in April. Find the 2022 Poetry Contest Information and submission guidelines here. The theme "Ambition" is from one of Carl Sandburg's Rootabaga Stories, to celebrate it's 100th year of being published. "An ambition…creeps in your heart night and day, singing a little song, 'Come and find me, come and find me."
Students are invited to submit a poem to Carl Sandburg Home National Historic Site's annual Student Poetry Contest. The contest encourages youth to explore writing their own poetry, and is open to students nationwide!
Submissions are accepted from grades 3-12 and must be postmarked by March 1, 2022. See below for submission rules.
Winners will be notified by April 8, 2022, and will be invited to participate in a special virtual program on April 22.
---
2022 Contest Rules
Theme – "Ambition"
Carl Sandburg wrote millions of words reflecting on the American experience of the 20th century. Though his words often focused on war, labor, and social injustice, as a father of three, he also wrote imaginative, zany, and fantastical children's stories, called "Rootabaga Stories." Carl Sandburg's "Rootabaga Stories" were first published in 1922 and celebrate 100 years of entertaining readers of all ages this year. The theme "Ambition" is from one of these stories. "An ambition…creeps in your heart night and day, singing a little song, 'Come and find me, come and find me." Read the story here.
Poems submitted for the 2022 contest should reflect the theme of "Ambition." By definition, a strong desire to do or to achieve something, typically requiring determination and hard work. Or setting goals to achieve success.
Submission Rules
Poetry accepted from 3-12th grades only. Poems will be grouped for judging by 3-5th, 6-8th, and 9-12th.
Poems must be submitted by a teacher (traditional classroom or homeschool teacher).
No more than three poems per class. Teachers with multiple classes, can submit up to three poems per class period.
Poem will be judged on its ability to communicate the theme.
Poem can be written in any style, but must not exceed one-page in length. No illustrations.
Poems must be typed, no handwritten entries, using standard computer fonts, like Times, Arial, etc…
Do not place any identifying information (name, school, grade, etc…) on poem sheet, that will go on the accompanying submission form.
Submission form must be complete to be accepted:

Paperclipped to poem, no staples
Must be signed by parent, student and teacher
Submissions must be postmarked, faxed, or e-mailed to [email protected], by March 1, 2022. Emailed submissions must be docs, .pdfs or scans. Low resolution pictures of the submission will not be accepted.
Judging
Judges from the literary community will make the decision for 1st, 2nd, and 3rd place within each grade category (3-5th, 6-8th, 9-12th).
Poetry Partners
The 2022 Poetry Contest is a result of tremendous community support including the Friends of Carl Sandburg at Connemara, and literary volunteers who serve as judges. Thank you.
Poetry Resources
You may also find curriculum resources to use in the classroom at the park's website: www.nps.gov/carl/learn/education/index.htm.
Send Submissions to:
Carl Sandburg Home NHS
Attn: Poetry Contest
81 Carl Sandburg Lane
Flat Rock, North Carolina 28731
Fax 828-693-4179
Email: [email protected]
Van Gogh Alive at Biltmore Estate
Various times
His masterworks have been displayed around the world for over a century… but never like this. Described as "an unforgettable multi-sensory experience," Van Gogh Alive is a powerful and vibrant symphony of light, color, sound, and scent that compels you to leave the world behind and immerse yourself in Van Gogh's paintings. Simultaneously enchanting, entertaining, and educational, Van Gogh Alive stimulates all the senses and opens the mind.
Banco de Comida I Food Pantry
Banco de Comida I Food Pantry
Greer Relief Volunteer Opportunity: Pick up food weekly from Food Lion
Food Lion Pick-Up

We are seeking a volunteer to pick up food weekly from Food Lion (2460 Hudson Rd). Pick up would be between 12 PM – 2 PM on Tuesdays and Wednesdays. 

Email Jennifer

 for more information and to volunteer.
Greenville Humane Society's mission is to preserve the lives and enhance the well-being of animals. Our Vaccine Clinic does just that. We're proud to offer common preventive services like vaccines, testing, and more to help keep your pet healthy—without breaking the bank, starting at $10! Here, you'll get the same stellar care you deserve, but our costs are lower than traditional veterinary clinics (plus, you're supporting a great cause!).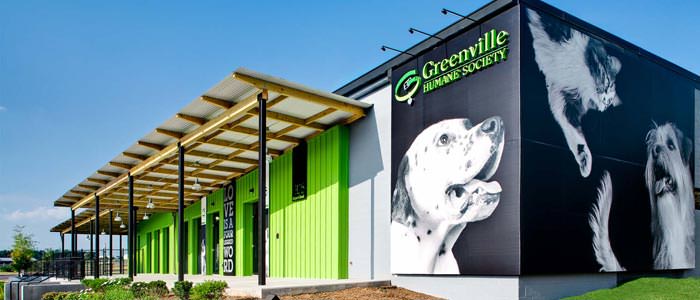 Membership with OneSpartanburg, Inc.
Membership is based on a tiered structure that allows prospective members to choose the benefits and level of investment they desire. Choose from Initiator, Builder, or Leader to get started.
CHOOSE A LEVEL
INITIATOR
Ranging from $400 to $675, our Initiator membership is designed for startups and small businesses. It offers benefits such as networking, a directory listing and ribbon cutting availability.
BUILDER
Ranging from $1,295 to $2,495, our Builder membership is designed for growing businesses. It offers benefits such as the ability to list multiple locations and discounts on event and program sponsorships.
LEADER
Ranging from $5,250 to $11,495, our Leader membership is designed for established businesses and corporations. It offers benefits such as exposure to our Executive Board, credits toward Leadership Spartanburg participation and additional contact with other members.
New jobs at Adidas' Spartanburg distribution center
Adidas' Spartanburg distribution center has created a new shift, resulting in the creation of more than 200 jobs. Positions will be for the weekend night shift from 7 AM-7 PM Friday-Sunday.
adidas Careers – Through sport, we have the power to change lives. All Job Openings (adidas-group.com)
Volunteer in Piedmont SCORE!
A Chance to Make a Difference
Written by: Jerry Smith, SCORE Mentor
Who doesn't remember the person who was a major influence on their career – a teacher, a first boss, a wise colleague? They are never forgotten, and that person also gets to feel the gratification that comes with knowing they had a meaningful, long-term impact on another human being.
What if you could be the one who has the opportunity to have a significant impact on a person who is starting out in a new business career? You can, by becoming a part-time volunteer in Piedmont SCORE!
What is SCORE? It was founded almost 60 years ago by the US Small Business Administration (SBA), with the goal of providing free mentoring support to small business startups and existing small businesses via a highly experienced volunteer organization.
There are SBA supported SCORE chapters all over the United States, with more than 10,000 volunteers. In 2020 alone, SCORE mentors helped start 45,027 new businesses and create 119,562 new jobs. In the same year, 60% of SCORE's clients were women, 46% were minorities, and 9% were veterans.
SCORE contains a wide variety of volunteers, from their 20s to 80s, including retired corporate executives, and small business owners, as well as volunteers who are actively working regular jobs in large and small businesses.
There are four ways you can volunteer. The majority of volunteers are Mentors, who help small business startups and existing small businesses with every aspect of starting and running a small business. Additionally, there are Subject Matter Experts in a wide variety of subject areas including critical specialties like information technology, finance, sales and marketing, and manufacturing, just to mention a few.
Mentors bring expertise in many specific business areas like office management, banking, healthcare, transportation, restaurant management, and numerous others. In addition, there are volunteer Presenters who provide a myriad of educational programs, as well as Administrators for every aspect of each chapter's program.
The Piedmont SCORE chapter, located in Greenville, started 50 years ago, includes 11 upstate counties from Union in the east, to Oconee in the West, Greenville and Spartanburg counties in the north, to McCormick in the South. With close to 50 members, ranging in age from 23 to 82, most of them mentors, literally hundreds of small business clients are served each year. New clients arrive almost every day, and the chapter is always seeking qualified mentor and other volunteer candidates.
Volunteer Opportunity: Income Tax Assistance
VITA

The Volunteer Income Tax Assistance (VITA) program offers free tax help to those who meet the income criteria. IRS-certified volunteers provide free basic income tax return preparation with electronic filing to qualified individuals. We are looking for volunteers and interns. 

Check out our blog

for more information about the internship opportunities. 

Email Jennifer

 for more information about the program and volunteering.
Mill Village Farms' FoodShare Greenville is a fresh food box program in partnership with 

FoodShareSC

 that is working to make it easier for families in our community to enjoy fresh fruits & vegetables. Volunteers are needed to welcome FoodShare participants, distribute boxes, complete order forms, etc.

 
lamentations an art exhibit
On loan from the New Orleans Museum of Art.
Over the past seven years, Tina Freeman has photographed the wetlands of Louisiana and the glacial landscapes of the Arctic and Antarctica. In Lamentations, Freeman pairs images from these desparate regions in a series of diptychs that function as stories about climate change, ecological balance, and the connectedness of disparate landscapes.
images courtesy of and © Tina Freeman.
This exhibition is generously sponsored by Davis + Walker Barnes, Alice + Ty Dawson, Leah Kent + Mici Fluegge, Misti + Kevin Hudson, Susu + George Dean Johnson, Jr., Leigh Ann + Ryan Langley, Vicki + Tom Nederostek, Margaret + George Nixon, and Agnes + William Peelle.
Nine New Branches: New member show at the Artists Collective | Spartanburg
The annual new member show at the Artists Collective | Spartanburg will run from 4 Jan – 29 Jan. The artwork can be viewed in Galleries II and III from 10am -4pm Tuesday – Saturday.

Each year at this time Artists Collective | Spartanburg features its new members. It is one of the ways the Collective introduces the new artists to the community.

This years new members are Hannah Henderson, Jessica Massey, Pat Edwards, Ari Carver, Robyn Crawford, Thomas Zumbach, Mary Verrandeaux, Karen Patrick, and Abe Duenas.
Norman Rockwell's Home for the Holidays
Rockwell's hopeful and admiring attitude toward humanity was the hallmark of his work. He loved to paint pictures that conveyed stories about people, their attitude toward each other, and his feelings about them.
During his forty-seven year affiliation with The Saturday Evening Post, Norman Rockwell was celebrated for his special holiday cover illustrations, which were commissioned to mark a full spectrum of annual events for an enthusiastic public, from Thanksgiving, Christmas, and The New Year to Valentine's Day and April Fools' Day.  Whether it was the presentation of mouth-watering turkey at the Thanksgiving table or a rosy-cheeked Santa checking his list to see who's naughty or nice, the illustrations simply conveyed Americana. In a rapidly changing world, Norman Rockwell's art has been a reassuring guide for over six decades, and it continues to resonate today.
The Upcountry History Museum – Furman University in partnership with the Norman Rockwell Museum in Stockbridge, Massachusetts will host the traveling exhibition Norman Rockwell's Home for the Holidays.  This beloved exhibition, featuring over 40 of Norman Rockwell's most memorable and enduring holiday images, will make its South Carolina debut at the Upcountry History Museum.