Spartanburg Events Calendar
Find Spartanburg events and things to do, including concerts, art walks, sporting events and nightlife entertainment. Be sure to also check out our outdoors guide for the Upstate and a listing of museums and galleries.
Tuesday, June 22, 2021
2021 Annual Juried Exhibition Calling Visual Artists
Dog Man Summer Reading Challenge
Looking for a fun summer activity to keep your child reading this summer? Fiction Addiction will be hosting a Dog Man Summer Reading Challenge throughout the month of June, and we want YOU to join us for the chance to win a gift card to Fiction Addiction, along with some other fun surprises.
Take a photo/video of each completed task, and share it to your Facebook, Twitter, or Instagram, tagging us and using the hashtag #DogManFA to enter from June 1-30. If you are not on social media, feel free to email your entries to
[email protected]
Photos/videos MUST include the entrant. Each completed task earns you an entry into our grand prize drawing for a $50 Fiction Addiction gift card, which will take place on July 1st. The more entries, the better your chances of winning! Anyone who turns in their form at the store will also get a Dog Man sticker (as supplies last).
RULES:
– Contestants must enter using the form that will be shared here the last week of May
– Entry must include 
#DogManFA
– Entry photo or video must include entrant.
– Entries must be posted before midnight on June 30th.
Don't miss your chance to win!
Nantahala Outdoor Center Reopens for 2021 Season with New Offerings
Nantahala Outdoor Center (NOC), has reopened all adventure activities and river outposts for the 2021 season featuring new food and beverage venues, expanded courses, and the return of events and live entertainment to main resort campus in Bryson City.
Launched whitewater rafting on seven rivers in the Southeast and aerial adventures to high demand
Two new food and beverage venues launching on NOC's 500-acre campus including a renovated coffee and donut shuttle bus as well as a beer venue featuring New Belgium beer and custom beer blends
Expanded courses at NOC's Paddling School for kayakers to learn new skills and experience Southeastern rivers
Full calendar of live music from local and regional bands, and the return of events like Women's Paddlefest and river releases
Relia's Lost Kitchen dinner series kicking off this month with a sold out Orin Swift Wine Dinner; more to follow through October.
Nantahala River Rafting Fully Guided
A guided whitewater rafting trip is one of the best ways to experience the Nantahala Gorge. The crystal-clear Nantahala River is the perfect family-friendly river where experienced river guides will help you navigate through splashy Class II-III rapids and bouncy waves, with occasional calmer waters where you can enjoy the spectacular mountain scenery. The fully guided rafting trip the most popular adventure at NOC, with thousands of families returning year after year.
Sign-Up for Reedy's Kids Club
Tickets On Sale Now for the Brevard Music Center Summer Festival!
This year's sensational summer season features an exciting, in-depth performance schedule spanning 5 weeks from July 9 through August 8. Highlights include [email protected] "Festival Within a Festival," the acclaimed BMC Presents series, performances by Brevard Music Center's Janiec Opera Company, esteemed Artist Faculty, and more!
Voter Alert! Making Democrocy Work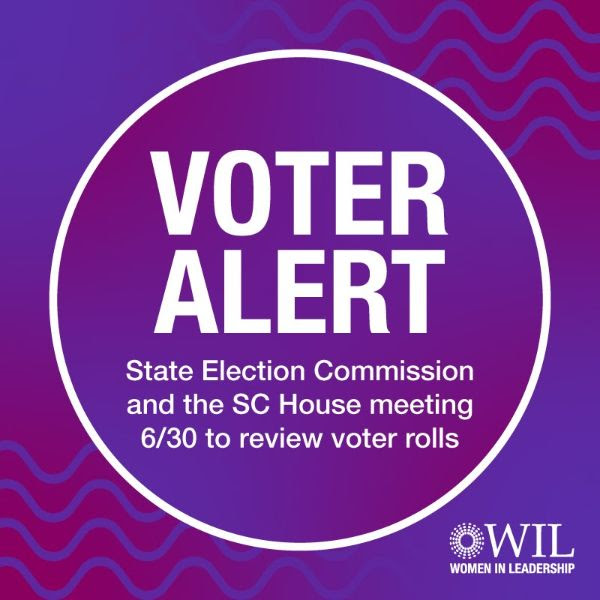 Voter Alert! What are you doing on June 30?
Did you know that The State Election Commission and the SC House are meeting to review the voter rolls? @LWVSC says purging voter rolls (a.k.a. deleting voter registrations) is one of the most common means of voter suppression. Sign up to give your input on June 30th or call your representative. For more info read the latest Making Democracy Work update.
Weekly lesson plans for you and your Pets
A  new lesson plan released every week!
WIL Listen Episode 5: Why are some legislative districts so oddly shaped?
South Carolina Senator Mia McLeod and South Carolina Representative Jenny Horne share their perspectives on legislative redistricting as incumbent candidates whose districts were redrawn following the 2010 Census and how you can advocate for fairness and transparency as the district maps are drawn based on the final 2020 census numbers expected to be released in mid-August of this year.
WIL Listen Episode 5: Why are some legislative districts so oddly shaped?
Wings of the City Art Exhibit
Local news has shared several recent stories about a petition to remove the Wings of the City exhibit. Art can create many different reactions and emotions in viewers, and Hispanic Alliance respects the right to both share these impressions and to be civically active in the community.
We also want to reassure the community that the vast majority of responses to this exhibit have been overwhelmingly positive. Many are full of pride to have a world-renowned artist, and the accompanying tourism, brought to our home. Please read a joint statement from the City of Greenville and Hispanic Alliance regarding the City's support for Wings of the City, as well as the real intentions behind welcoming this art.
On a personal note, Hispanic Alliance has been deeply touched by the supportive messages and generous donations of those seeking to preserve this art for everyone. We encourage you to see these impressive sculptures in-person! Please visit 
WingsofGVL.com 
to learn more, and don't forget to use the hashtags #WingsofGVL, #AlasdeGVL, and #WingsoftheCity.
Donor Center Spartanburg: Critical Need Donate Blood
KEY FACTS: 

In the past few days, hospital partners are reporting they are using blood at a much higher rate than normal. When demand is high, and the supply is critically low – that is a dangerous equation for the community.
Because of the critically low supply, The Blood Connection (TBC) is now having to back-order blood products. This has affected 12 hospital partners so far.
48% of days this month, TBC DID NOT collect enough blood to cover hospitals' needs. For comparison, in May of 2020 (during the pandemic) TBC collected enough to cover those needs 84% of the days.
There is a high likelihood that TBC will have to start rationing blood by the end of the weekend.
Heading into a holiday weekend – hospitals are stocking up their blood supply. TBC has already not been able to provide those products.
The community is the ONLY solution to this dangerous problem. The blood supply for local hospitals is in the community's hands. 
Children's Fountain at RiverPlace
CHILDREN'S FOUNTAIN
Located at RiverPlace, this railroad-themed splash fountain is a popular spot to cool off in the summer months. Hours of operation are 8 a.m. to 10 p.m. daily, from April 1 to October 31.
Wild Art Sculpture Showcase
The North Carolina Arboretum is going wild for art and nature in 2021 with Wild Art! On view April 1 through September 26, this outdoor sculpture exhibition features works by 17 local and national artists drawing inspiration from the natural environment. Situated throughout the Arboretum's spacious, open-air gardens, the show offers guests a doorway into the wild world from the comfort and safety of cultivated landscapes transformed by art.
The 18 sculptures on display represent a variety of approaches to the theme of "wild art," from the literal to the abstract, and are crafted from a diverse array of materials that will delight and inspire. Let your imagination take you on a wild journey into the world of plants and animals near and far with Wild Art at The North Carolina Arboretum.
The exhibit is available to all guests during normal Arboretum hours, and there is no admission cost to view the sculptures beyond our usual parking fee of $16 per personal vehicle.
WNC Farmers Market Open Daily
With the convenience of being open year-round, 7 days a week, the WNC Farmers Market offers a selection of farm-fresh produce at the lowest prices in Western N.C. Our popular retail buildings, providing a selection of non-perishables, fruits, vegetables, crafts and more, are open daily.
WNC Farmers Market Open Daily
With the convenience of being open year-round, 7 days a week, the WNC Farmers Market offers a selection of farm-fresh produce at the lowest prices in Western N.C. Our popular retail buildings, providing a selection of non-perishables, fruits, vegetables, crafts and more, are open daily.
2021 AP Teacher Institute for Art + Design
Registration is open for the 2021 AP Summer Institute for Art & Design at Converse. This institute will be held online to reach more educators located in rural areas of the state and to serve as a safeguard for participants during the COVID–19 pandemic.
Participants registering for this event must be available to participate live via Zoom during the following class times:
Week 1 (June 14-18): Tuesday & Thursday, 6:00 – 7:30 pm with additional contact hours asynchronously via Canvas.
Week 2 (June 21-25): Monday – Thursday, 9:00 am – 4:00 pm (with a 1 hour lunch break) and Friday, 9:00-11:30am
Week 3 (June 28-July 2): Monday – Friday, 9:00 – noon with additional contact hours asynchronously via Canvas.
The purpose of the Advanced Placement (AP) Teacher Institutes is to provide South Carolina public school teachers with the special endorsement to teach an AP course as required in S.C. Code Ann. Reg. 43-258.1 (2018). Teachers who successfully complete an AP teacher institute will be awarded special AP endorsement in the specific AP class area.
This grant-funded initiative is open to SC High School Art Teachers with priority for registration to teachers currently teaching AP Courses or those assigned to teach AP courses. Participants will also be enrolled in EDU 599.01: Advanced Placement Art and Design Institute with 3 Graduate Credit Hours.
ACTING (In-Person) Rising 5th – 7th Grades 
​In this week-long, half-day acting session, students will work with a team of industry experts to explore the nuances of acting technique and performance. With a balanced combination of training, rehearsal, and performance, young artists will take daily acting, improvisation, voice and speech, and movement classes, applying these skills in an original showcase presented at the end of the week for a small audience. This week is perfectly suited for students who are passionate about theatre, excited to collaborate with peers and professionals, and interested in expanding their theatre skill set. No previous experience required. Space is limited. 
​​​​
REGISTRATION OPENS APRIL 19
Don't Miss the Latest TATT Podcasts
The Ten at the Top Podcast Channel includes three distinct podcasts focused on issues impacting the Upstate. Be sure to subscribe to the channel to get notifications for the newest podcasts.
Ten at the Top is a regional non-profit organization with the mission of fostering collaboration and partnerships across the Upstate around issues that impact economic vitality and quality of life.
GALACTIC VOYAGERS  Summer Camp
GALACTIC VOYAGERS 
June 21-25  
3, 2, 1 BLAST OFF!  Celebrate the journey to space and travel through the Milky Way with TCMU! Explore constellations, craters and build your own out-of-this-world rocket ship.
TCMU-GREENVILLE SUMMER CAMPS
TIMING AND PRICING OPTIONS:
PRESCHOOL AGE CAMP 
Half Day Only: 9AM-12PM or 1PM-4PM 
$150 (members) and $175 (non-members)
Campers must be three years old by the start of camp and potty trained. 
ELEMENTARY AGE CAMPS (K5-2nd or 3rd-5th)
Half Day Only: 9AM-12PM or 1PM-4PM 
$150 (members) and $175 (non-members)
Full Day: 9AM-4PM (Includes Lunch Bunch) 
$300 (members) and $350 (non-members)
Lunch Bunch Hour Add-On: 12PM-1PM 
$30/Camper for half day campers only (only at TCMU-Greenville)
Spartanburg Humane Society WISH LIST for donations
Our animals are not picky about brands, flavors, or life stages! However, if you're not sure about a product or brand you are wanting to donate you can check out some top reviewed brands here: https://spots.com/reviews/